Hot Dog History!
Once upon a time in 1946 on the beautiful beach in sunny Santa Monica, a man named Dave Barham opened a food stand that would become an American icon. Originally called Party Puffs, the bright red barnlike stand served ice cream cones and lemonade but that all changed when, using his mom's cornbread recipe, Dave perfected the Hot Dog on a Stick®. To highlight this new menu staple, he changed the name of his stand to Hot Dog on a Stick. Next, he took his products on the road and started selling at county fairs using his Lincoln Continental as a generator. After that, Hot Dog on a Stick took to the malls. While we have clearly come a long way, that famous Muscle Beach location is still selling made-to-order Hot Dogs on a Stick and fresh hand-stomped lemonade today.
Let's see, what else? Oh, our fantastic uniforms! How could we forget? During the early days of Hot Dog on a Stick, our Hotdoggers wore polka dots but eventually we changed to the famous and iconic outfits everyone knows and loves today.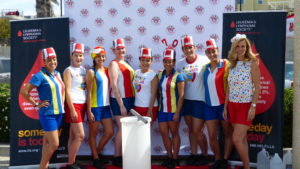 Our bright and eye catching striped uniforms are "Red, White and Blue with a Splash of Lemonade." We have a TON of pride in them as they stand for our commitment to exceptional smiling customer service. And, fun fact, our hats are so coveted that they are never supposed to leave the store. If you want to get your hands on one, our stores do have fun paper replicas and coming soon, Halloween Costumes!
What began as an entrepreneurial dream on the beach of Southern California is now a brand with 70 stores in 7 states. Global Franchise Group acquired Hot Dog on a Stick in 2014 and proudly operates our stores with a vision to expand Hot Dog on a Stick across the U.S. so everyone can experience the deliciousness of our stick items and lemonade. To help with this mission, we offer Hot Dog on a Stick franchising opportunities. Visit our franchise website to learn how you can operate your very own Hot Dog on a Stick and bring some California sunshine to a location near you!